Companies evolve over the years. The same also applies to the property right strategies. Young companies, such as startups, are careful to protect their own solutions. While established companies are also looking for ways to increase the ROI of their property rights. But it also pays off for startups to think outside the box and to proactively manage property rights.
THE

ENVIRONMENT OF A TECH STARTUP

In most cases, tech startups have to assert themselves against established companies. Large tech companies have extensive patent portfolios. In addition, they continuously register a large number of patents. The following graphic illustrates this for 2019 as an example.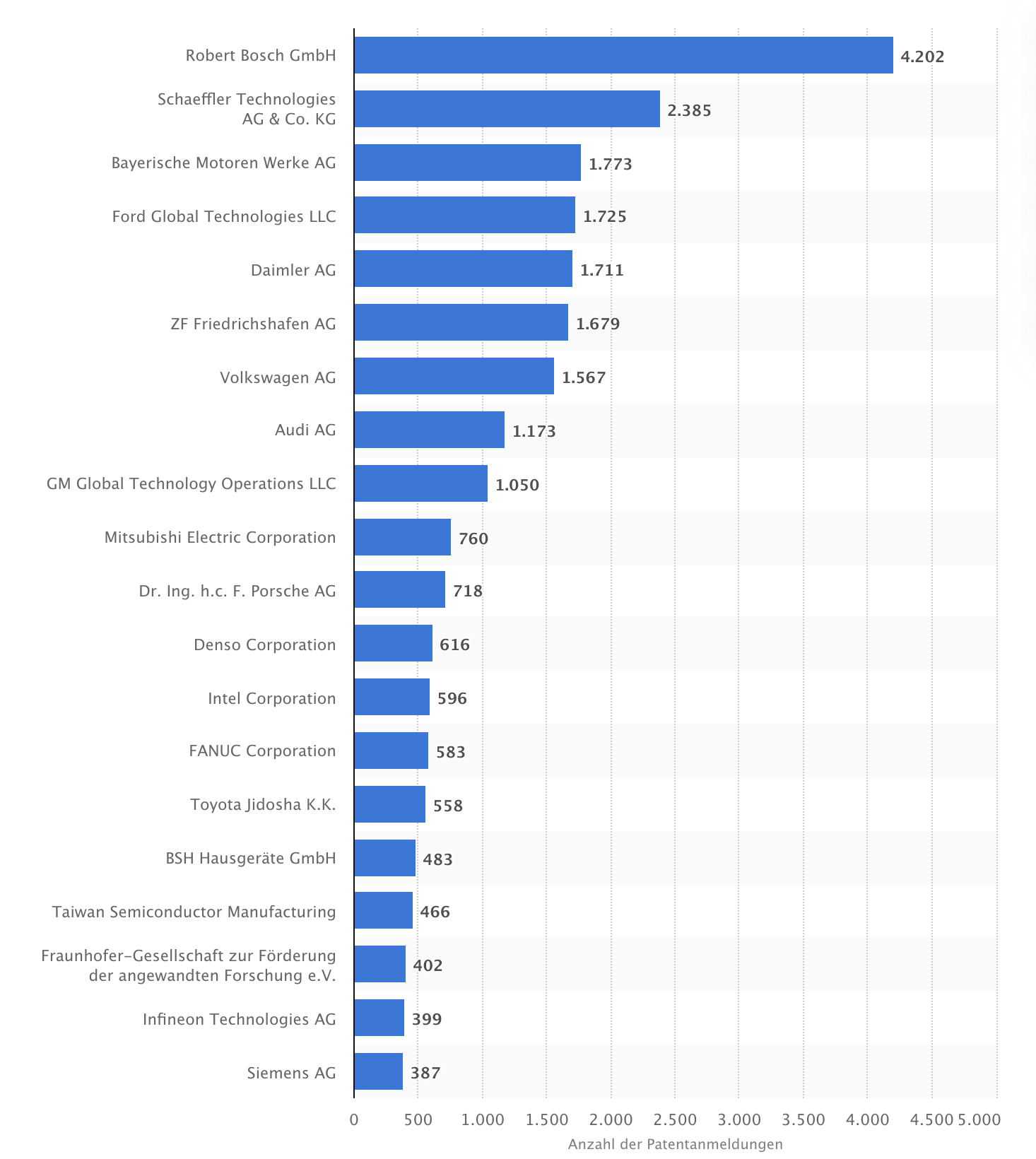 Source of the original German text: Statista 2019
The large number of patents creates stalemates between established companies. That is why there are all kinds of agreements to avoid high costs (caused by court or arbitration proceedings). Examples are: patent pools, cross licenses and guarantees.
In this way, the large companies manage to divide the markets among themselves. At the same time, they make it more difficult for new companies to enter the market. In addition, small businesses are more likely to be sued for patent infringement, as recent studies show. Young companies should therefore not limit themselves to registering their own development. However, the fact that you are entering the shark tank when you enter the market is not the only reason that speaks for an early, proactive management of property rights.
KNOW

AND USE DIFFERENCES

Established companies strive to protect their own market shares. In contrast to tech startups who want to increase their sales through innovative technologies. The companies therefore have a more defensive stance, while startups do not have market shares to be protected, which results in a more offensive stance.

To protect their market shares, many companies rely on large patent portfolios. This strategy requires the continuous registration of many patents (see graphic). As a rule, companies have to make compromises.
Through targeted research, weak points can often be identified and exploited in retrospect. When it comes to property rights, startups shouldn't just rely on their own registrations, but should keep an eye on their environment.
Startup

- TIMETABLE

Startups should prepare thoroughly for entering the market and not adopt an overly passive attitude afterwards. Here are some noteworthy guidelines for young companies:
Market entry blockades can be circumvented in various ways, for example through the purchase or licensing of patents or your own defensive publications
In contrast to large companies that secure their market share through large patent portfolios, startups focus on individual patents. These should be carefully checked for validity and enforceability.
It also makes sense to work with law firms or lawyers who have experience in enforcing patents
The state of the art as well as the developments of the competitors should be analyzed carefully. The more your own patents stand out from the state of the art already disclosed, the better.
If competitors infringe the Startup patents, this can result in lucrative license agreements and collaborations. In addition to their own registrations, startups should also keep an eye on the registrations and products of their competitors.